Are you looking for a Menudo recipe online? Or information on how to cook Menudo? I would say that Menudo si one of my comfort food and that through the years, I have tried to a lot of ways to cook this dish. Here is my version of cooking this Menudo recipe: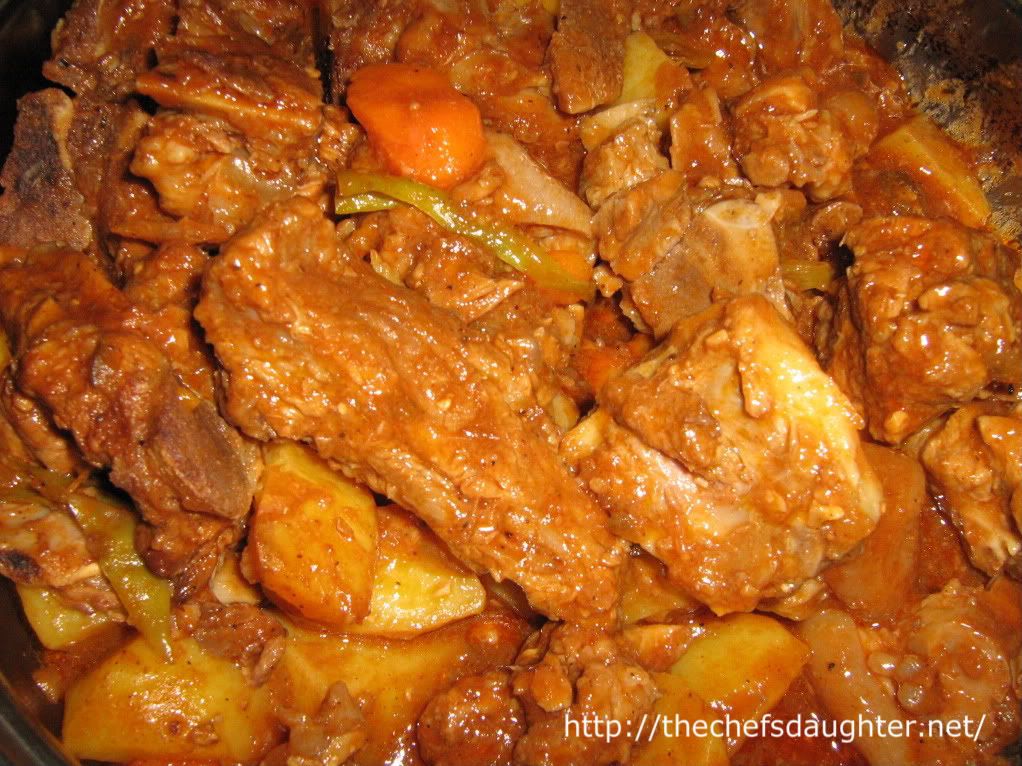 Menudo Ingredients:
1/2 kilo of pork cut into small cubes (you can also choose one with ribs if you want)
1/4 slice of Dari Creme or Butter Cup margarine (if you are going to get the bar type)
4 cloves of garlic, crushed
2  small onions, chopped
4 pcs. hotdog, sliced
1 250 grams pouch of Del Monte Tomato Sauce
1 cup garbanzos
1 red bell pepper
4 pcs. of medium sized potatoes, cubed
dash of pepper
salt to taste
Optional ingredients:
1 pack raisins
1 medium sized carrot, cubed
1 Reno Liver Spread
How To Cook Menudo:
1. Melt margarine and fry pork, until brown.
2. Put the onion in the same sauce pan, saute with pork.
3. Put the garlic in, saute with pork as well.
4. Put in sliced hotdog and saute with the previous ingredients.
5. Pour in tomato sauce and add water, let it simmer initially for 5 mins.
6. Drop the red bell pepper and garbanzos (the raisins, carrots and liver spread if you have those as well)
7. Drop the potatoes (uncooked) and let it simmer for 30 mins until the pork is tender, but if you boiled the potatoes and drained them prior to putting it in, then just add the potatoes, at least the last ten minutes of cooking it before you lower the heat.
7. Add a dash of salt and pepper to taste
8. Lower heat, let it simmer for two more minutes and serve.
Tips:
I use margarine as cooking oil substitute because it really adds a sweeter taste and aroma to my Menudo.
You can also choose whether to let the red bell pepper simmer longer with the rest of the ingredients if you really want it to add flavor to your Menudo, but if you want a lighter flavor and aroma on the dish then just drop it on the last ten minutes before you lower the heat
I boil the potatoes separately to make sure that it won't drain much of my sauce and for it to be well cooked along with the rest of the ingredients
Hope you like my Menudo recipe.
How about you? How do you cook Menudo?